In this post, we describe the technical solution for importing Excel files to WordPress website using
WP All Import plugin
.
Do you have an Excel file with a list of Products (as an example)?
Do you want to import those products into WordPress using WP All Import plugin?
Do you want to edit products in Excel and then update them on the WordPress website using
WP All Import plugin
?
Are you looking for a simple solution and spending too much time handling the documents?
We have a solid and proven technical Solution for this use-case - "Excel to XML Converter" which is based on the predefined mapping. Read below how it works.
You have a plain Excel file with a list of products.
To be able to upload the products from Excel into the WordPress website - you need to prepare a file of a specific format that can be imported.
Such format can be an XML file, which can be easily imported to WordPress using WP All Import plugin.
Using our custom Excel to XML Converter you could save time and money because the converter will transform the Excel data into an XML format in a matter of seconds.
We are the experts in converting files and we already have such an online service (Conversion Tools) running that will be doing all the complex work for you.
To import data using WP All Import plugin you need to have a file with a specific XML structure.
For this purpose, we prepare the Mapping Configuration, which will define the transformation rules between Excel columns and the result XML file (that will be later imported using WP All Import plugin).
Based on the Mapping Configuration, our Excel to XML converter will load an Excel file, will parse the data, and based on the mapping will save the XML file in a specific XML structure.
As a result, your XML file could be imported to the WordPress using WP All Import plugin.
You could edit your products in Excel and after each update - you could convert the products Excel file to the XML format (for using it with WP All Import), to update the products in WordPress.
Please find the sample files below: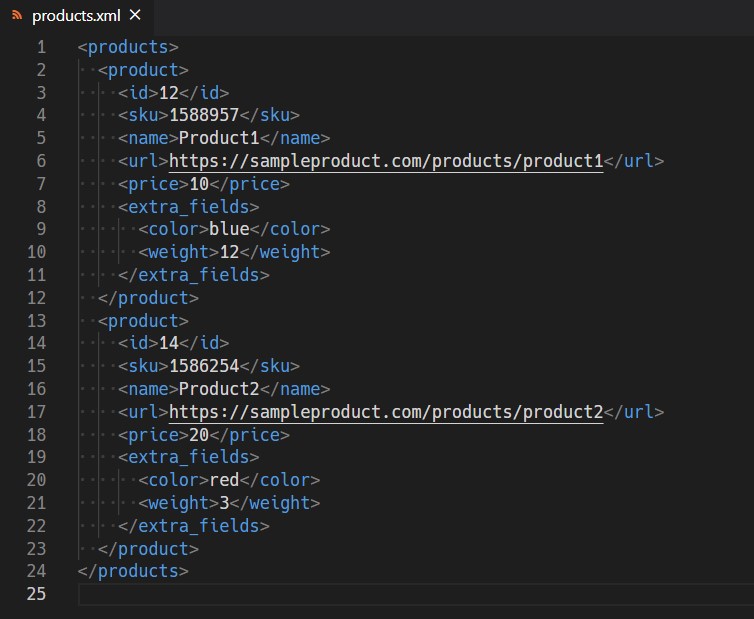 Please note how we transformed extra fields from the Excel file into an additional (nested) level in XML structure.
It is only one example of solving the problem (converting Excel to XML for WP All Import plugin).
We can have a different solution based on your business or personal requirements.
Please note - we have a generic Excel to XML Converter, which is converting the Excel file into a plain structured XML document.
Usually, it is required to have a more complex structure (see samples above) for the XML format and that is why there is a need to define the Mapping Configuration - to provide instructions to the Converter about how XML file structure should look at the end.
You can send us an Excel file and describe which XML file structure you would like to import using WP All Import plugin. After analyzing your data we will prepare the Mapping Configuration and set up the custom converter where you could choose the mapping configuration.
Once the set-up process is finished - you could use the custom converter via the Conversion Tools website, via API, or via an integration with Zapier.
Yes, the files conversion process can be automated.
We have an integration with Zapier, an automation tool, that can be used to convert files from Excel to XML automatically based on the predefined events.
For example, once you update your products list Excel in Google Drive folder (or Dropbox, One Drive, etc) - the conversion to XML can be triggered automatically and the result file will be uploaded into a separate Google Drive (Dropbox, OneDrive, or other) folder, or, the file can also be emailed to some email address.
This and many other more complex use-cases can be done using Conversion Tools Integration with Zapier.
Would you like to process your files more efficiently?
Get a Free Quote right now by submitting the request using the form below! We usually reply within the next few hours.
We already have clients who use our solutions on a daily basis - you can be our next happy client, join now!
Share this article with your friends or colleagues!